Standard Pin Grab Bags - Sets of 3 or 5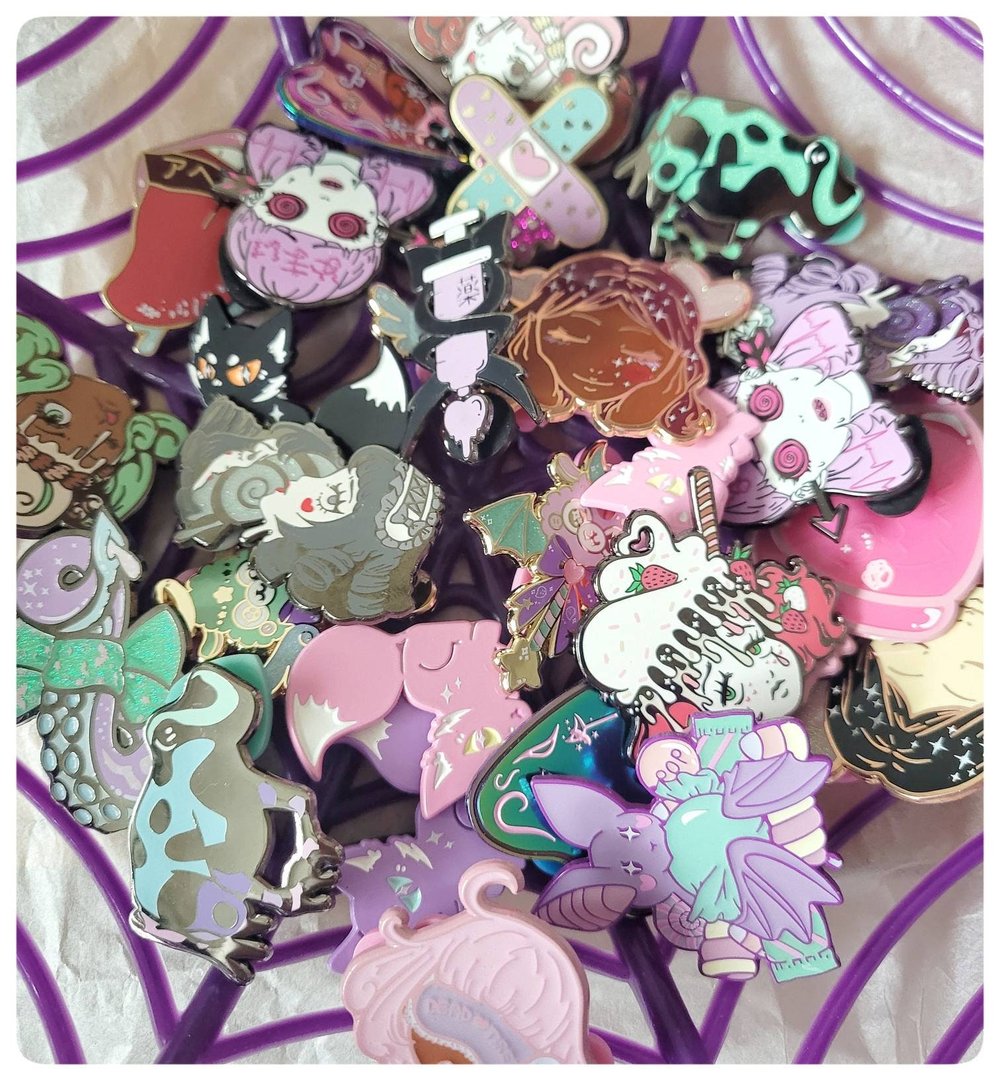 This is for "standards" pins! Standard grade pins look great at as little as around half a meter/1.5ft away and are best for wear (VS. display), as damaging A grade pins can be upsetting. They may display the following flaws up close:
-low enamel
-specks in glitter, small specks in solid enamel
-scuffs on enamel
-small scuffs on metal
-small bubbles in enamel
-some oxidation on the metal
-mild enamel overflow
Soft enamel B grades also exhibit dust in the epoxy, and the surface of the epoxy may be uneven.
All pins pictured in these listing photos are B grade. B grade pricing per full-size pin included in options ranges from $10-$14.
B grade pins are on backing cards. You may receive a mixture of old and new backing card styles.
Total list of possible pins (mini pins are not included):
• Pink split
• Strawberry split
• Pineberry
• Chocoberry
• Mint Chocolate Chip Roll Cake
• Strawberry Mocha Roll Cake
• Red Velvet Roll Cake
• Pink devipaca (no opal)
• Mint green angepaca (no opal)
• Dizzy
• Rainbow dart frog
• Green dart frog
• Mini rainbow dart frog
•Mini green dart frog
• Purple and black syringe
• Red and black syringe
• White and pink syringe
•Pink and Purple NEW Syringe
• Flanom
• Jellinom
• Pink sly fox
• Black sly fox
• Purple sly fox
• Purple tentacle
• Pink tenacle v2
• Purple tentacle v2
• White enamel planchette
• Soft enamel sweets bat
• Black lips ahegao
• Red lips ahegao
• Pink lips ahegao
• Dead tired light skin
• Dead tired dark skin
• Dead tired v2
• Bandage
• Pastel goth bandage
• Sundae
• Femme Love deep skin tone
• Femme Love light skin tone
• Femme Love medium skin tone
• Satanic Kitty
• Heathen Bunny
• Shinigami
NOTE: REQUESTS NOT POSSIBLE.
These are mixed to order, grab bags are not pre-mixed.