VINYL STICKER Grab Bags - Sets of 5, 10 or 15 stickers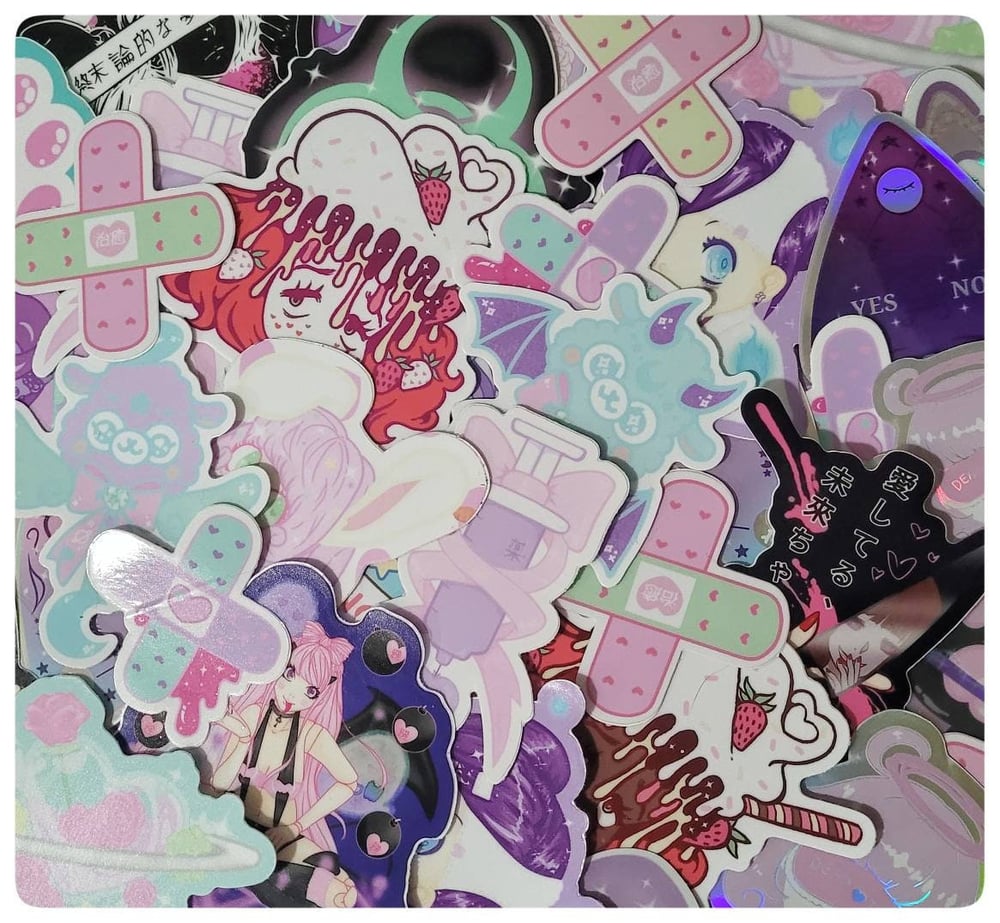 This is for vinyl sticker grab bags! Vinyl stickers in my store range from all shapes and sizes and finishes. They are all waterproof, UV resistant, and "permanent" (very difficult to remove once applied). You may get stickers with matte, holo, or glossy finishes.
Most stickers are 3". You may receive some smaller or larger than this, but they will not be the majority. You may receive a surprise sticker sheet. PLEASE LEAVE A NOTE if you do NOT want a chance to receive any of the PG-13 sticker options (ahegao, tentacles, "sekushi," "weird lewd shit" sheet)
Total list of possible stickers:
• Strawberry split
• Purple Angepaca
• Blue Devipaca
• Dizzy
• Rainbow dart frog
• Purple and Blue syringe
• Pink and Purple syringe
• Holo syringe
• Lacy Menhera Syringe Heart
• Blue and Pink bandages
• Mint and Purple bandages
• Pink and Yellow bandages
• Green and Pink bandages
• Pink sly fox
• Orange Tabby Cat paw
• Burman Cat paw
• Domestic Shorthair Cat paw
• Love
• Love v2
• Rin
• Hedge Witch
• Purple tentacle small
• Purple tentacle large
• Pastel planchette
• Dark planchette
• Sweets bat large
• Ahegao
• Dead tired small
• Dead tired large
• TWINS red blood
• TWINS pink blood
• Pineberry
• Chocoberry
• Holo border paw planet
• White border paw planet
• Queen of Nothing small
• Idle Obake
• "Sekushi~"
• Nya paw
• Pink "As You Wish" magic 8 ball
• Purple "Denied" magic 8 ball
• Panty Ghost Girl
• Easter Bunny Girl
• Menhera Pill Bottle
• Deco Whip Topping
• Crying Eye
• Sayuri small
• Sayuri large
• Sweets Bat sticker sheet
• Weird Lewd Shit sticker sheet
NOTE: REQUESTS NOT POSSIBLE.
These are mixed to order, grab bags are not pre-mixed. Logo stickers not included. Demon ladies stickers not included.